Andover Strut/SHHAS Fly-in & BBQ
Barton Ashes (Lancasters at Popham)
24th August 2014
Photos:Colin Lee
Reports and Photos from SHHAS events and visits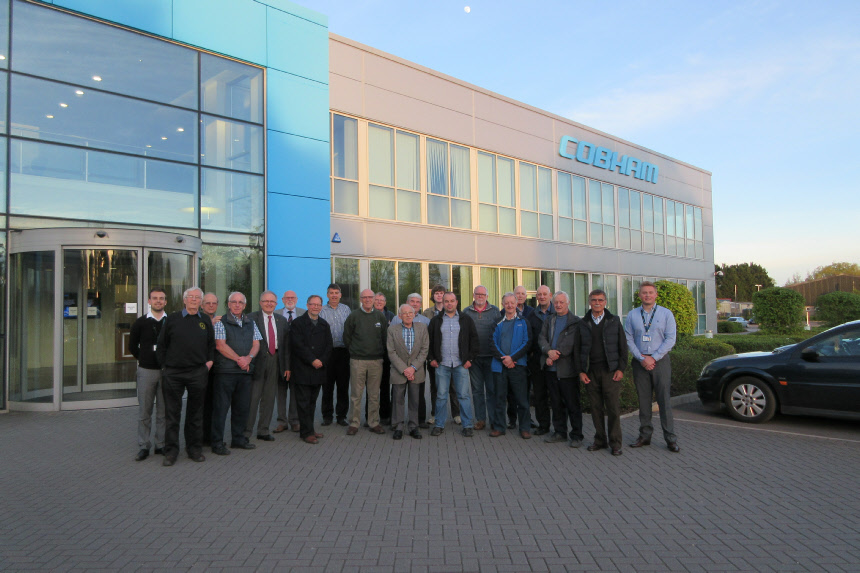 SHHAS visit to Cobham Mission Equipment
Wimborne, Dorset
30th April 2015
Report:Roger Hixon
Nineteen members made the trip to Wimborne.
On arrival at Cobham, we were given tea/coffee, biscuits and an introduction by Paul white, (Production Manager) which included an overview of the companies operations. We were then divided into two groups, for a very interesting and informative tour of the assembly areas, by Alex Seton (Gradate) and Matt Walker (Mechanical Designer)
All components are manufactured off site,primarily in the UK.and this facility puts them all together and tests them. The company export 88% of production, has an annual revenue of £1.9bn and employs 12000 people in five continents. They produce for, the Space, Aerospace, Land and Maritime industries,both military and civil.
As well as air to air refueling equipment, they also supply,weapons carriage and release systems for many different aircraft types.
SHHAS visit to RNHF, FAAM & Cobham Hall
Yeovilton, Somerset
10th September 2015
Report & Photos:Roger Hixon
We assembled at the Swordfish Restaurant, to await our guide. Her name was Katie, who was very interesting, knowledgeable and informative. She took us to the RNHF facilities, which included two Swordfish, and a Sea Fury. We visited the flight line and the scrap dump.
After lunch at the Swordfish Restaurant, we drove to the nearby, Cobham Hall, to see the reserve collection, and get an update on the Barracuda rebuild saga.
Finally back to the main museum, and to watch the Swordfish take off for a test flight.
A very good day out, many thanks to John Watts.
SHHAS visit to the Jet Age Museum
Gloucester
11th May 2016
Report & Photos:Roger Hixon
Twenty two members and friends visited the above museum on Wednesday 11th May 2016. After a rather wet journey up, we were warmly welcomed by Trevor Davies and his team. After tea and coffee, we were divided into six groups and allotted a guide. Each guide had his own section of the museum and we moved from one to another, until we had completed the tour. We were also lucky to have a D-day glider pilot there to talk to.
All our guides were very enthusiastic and knowledgeable. There is a large collection of aircraft, mainly Gloster, of course, and many models and aviation related artifacts. After a very enjoyable visit, we moved on to the "Aviator" restaurant for a nice lunch.
Our thanks go to Trevor and his team of guides, for making the visit so pleasurable, and to our society member, Mike Webster for suggesting the trip
Andover Strut/SHHAS Fly-in & BBQ
Barton Ashes
28th August 2016
Photos:Colin Lee





Andover Strut/SHHAS Fly-in & BBQ
Barton Ashes
30th August 2015
Photos:Colin Lee
SHHAS visit to TAG Farnborough
Hampshire
11th October 2016
Photos:Mike Webster / Report: Roger Hixon
On Tuesday 11th. Oct. 2016, fourteen members visited the above site. Our tour guide was Tony Knight, and our coach driver was Brian. Tony gave us a brief history of the Tag company and the airfield in general while we sat on the coach. Our first stop was the hangers, which were spotlessly clean, these contained various Biz jets all in immaculate condition. One belonged to Ron Dennis of Formula One fame. One aircraft was being cleaned and restocked as we walked through the hanger. We were not allowed into any of the aircraft. We then proceeded onto an airfield tour, and Tony explained all that had that had been done to satisfy the various authorities and local councils, in the development of the site which they purchased by Tag in 2002.
Then onto the control tower, with a look into the radar room, and then top of the tower with a wonderful view of the whole airfield site, probably the highlight of most peoples visit. Finally into the meeting room, and a talk on the environmental work being done by Tag on the whole 650 acre site. This was given by Miles Thomas, the manager on this dept. We were then taken back to the reception area, and given some small momentos of our tour.
A very worthwhile trip, for an interesting and informative visit, and our thanks must go to all those
from Tag, who made it all possible.

SHHAS visit to the Farnborough Air Science Trust
Hampshire
20th April 2017
Report & Photos: Roger Hixon
Fourteen members visited the FAST museum at Farnborough. This was our second visit to this establishment. After tea/coffee and biscuits, we were given a very interesting talk by David Wilson on the history of the RAF, the airfield and various other related topics. We were then taken to the Cody building for a demonstration of the Cody Flyer, by hanger pilot, Peter Buckroyd. Following this we were shown around the other exhibits, both outside and inside of the Trenchard building.
A very worthwhile and interesting visit. Always impressed by the knowledge and enthusiasm of the volunteers.


Andover Strut/SHHAS Fly-in & BBQ
Barton Ashes
27th August 2017
Photos:Colin Lee

SHHAS Member Bill Neilson
Jet Age Museum, Gloucestershire
13th July 2017
Report & Photos: Mike Webster
On 13th July 2017 SHHAS member Bill Neilson was an invited guest for a special Gloster Aircraft Co Centenary celebration at the Jet Age Museum.
Pic 1 - Bill has a chat with Ian Whittle, son of Sir Frank Whittle.
Ian Whittle a retired Boeing 747 pilot, flew in and out in his own private plane whilst a new time line exhibition was opened in the museum by Sir John Whitaker in the presence of no less than 3 Mayors (of Tewksbury, Stroud and Cheltenham) along with many other historical aviation dignitaries.
Pic 2 - Sir John Whitaker with the three Mayors and a Mayoress.
Pic 3 - Sir John Whitaker with Ian Whittle and George Dowty of Dowty Undercarriage fame.


We were kindly invited to join Probas Club on this trip. Fourteen SHHAS members attended and on arrival we were given a guided tour of all the facilities. We were taken aboard the Concorde, and then let loose to do our own thing. The museum was very good, and they had a nice restaurant. All the staff were very helpful and pleasant.
A very interesting and enjoyable trip.
Our thanks to Probus Club for asking us to join them.
Roger Hixon (Committee Member)
More photos by Paul Godfrey here
More info about the museum www.aerospacebristol.org
Aerospace Bristol
Filton
7th February 2018
Report by Roger Hixon
Photos: Chris Pointer, Roger Hixon & Paul Godfrey

SHHAS visit to Welford Historical Museum
RAF Welford, Berkshire
11th April 2018
Report & Photos: Roger Hixon / Mike Webster
Twelve members of the society visited this museum. We were welcomed by Don Summers, their leader. After a group photograph in front of the museum building, we were given a brief history of the base, and then a very interesting and informative guide of the many items on display. They have a very enthusiastic and active (after the chocolate cake and tea) group of supporters. After an enjoyable visit, eight members adjourned to a local pub, for a late lunch.

Andover Strut/SHHAS Fly-in & BBQ
Barton Ashes
25th August 2019
Photos:Colin Lee

SHHAS Annual Dinner
Wellow Golf Club
25th January 2020
Photos:Mike Webster

SHHAS coach trip to the de Havilland Museum
Hertfordshire
11th March 2020
Photos:Mike Webster (pics 34 & 35 by Colin Lee)
On Wednesday, March 11th 2020, 30 SHHAS Members and four friends were all out and about early to board an 08-30 Private Coach to visit the newly doubled in size De Havilland Aircraft Museum at Salisbury Hall North of London.
The visit was arranged to take early advantage of the expanded Museum as the New Hangar was only completed and opened on the 28th Feb.
Arriving a few minutes after the 10-30 opening time, our party were welcomed by the Curator, Alistair Hodgson in person, who then led us into a conference room for tea, coffee and biscuits during which, he gave us a short history of the De Havilland Family, and their impressive part in aviation development.
Relaxed and refreshed, we then enjoyed (and I do mean really enjoyed) a full private guided tour of the whole complex, which was conducted by Alistair himself. It was informative, interesting, entertaining and regularly sprinkled with subtle humour that never demeaned the impressive content. Clearly skilled as a speaker, the passion and enthusiasm in the delivery meant all our Group were completely engaged throughout what was planned to be 2 hours but became nearer three. Even when finished, a small group continued to engage Alistair in further conversation for some considerable time, reluctant to let him halt his encyclopaedic knowledge and sense of humour.
What of the museum itself?
I had never been before, but had heard rumours from some who had been many years ago, that the museum had most exhibits outdoors and looking a tad tired. Well if true then, it is certainly not now! There are a small number of aircraft outside with the inevitable flat paint, but the considerable content under cover in clean and smart condition, with superb descriptive display boards is fantastic.
Displays (in no particular order) include several Mosquitos, (including the original prototype), Puss Moth, C24 Autogyro, Vampire, Sea Venom, Tiger Moth, Comet (airliner fuselage) DH88 Comet, Dove, Heron, Humming Bird, Dragon Rapide, and Chipmunk plus a few others
The small cafeteria was able to give us sustenance and refreshment after the tour and we were then able to have a couple of hours to wander the complex at our leisure. What was further revealed is every member of the staff equalled the passion and customer care of Alistair, including the young man who sold items in the shop area, non could have been more helpful and we felt the whole museum had totally dedicated itself to our pleasure as a group. There was nothing too much trouble, no officious attitudes and a totally relaxed "can do" attitude, even down to opening the main Hangar Doors so we could have the usual SHHAS Group Picture.
Although a clearly very busy man, Alistair came and joined us for the Group Photo, that's him in his overalls in the centre of the picture (fresh from wherever he had been doing his "Hands on" management when we requested his attendance)!
When sadly we had to board our coach for the return at 15-30, it was clear that all were buzzing at what was not just a museum visit but a very special day!
It is going to be hard to match this at our next outing!
Mike Webster

Andover Strut/SHHAS Fly-in & BBQ
Barton Ashes
29th August 2021
Photos:Colin Lee
More photos by Paul Godfrey here